The Master Cardiovascular Research is a two-year international program of 120 ECTS. It offers students a challenging compulsory program and a choice of specialized Master's courses, which prepares them for their research internships at labs at the Amsterdam UMC and at renowned institutes abroad.
About the master
Is it your dream to start a career in cardiovascular sciences? Maybe the accredited Master Cardiovascular Research is something for you! A Master's in Cardiovascular Research at the VUmc School of Medical Sciences enables you to work in the field of cardiovascular research at a university, a research institute or a pharmaceutical or biotech company in the Netherlands or abroad. The majority of our graduates make a smooth transition to an international PhD program.
During this two-year international master program, you will learn all about the cardiovascular field, including the pathophysiology of the heart and the clinical aspects of cardiovascular diseases. This master offers students a challenging compulsory program and a choice of specialized Master's courses, which prepares master students for their research internships at labs at the Amsterdam UMC and at renowned institutes abroad. The program has been rated as one of the best Master's programs in the Netherlands in Keuzegids Masters 2019!
Are you interested in the mission and vision of dr. Warner (Dop) Simonides (the program director) and dr. Miriam van Strien (program coordinator)? And do you want to know what our master students think of our Cardiovascular Research master? Read their interviews.
Contact
Miriam E. van Strien, PhD Coordinator
Master Cardiovascular Research,
VU University Medical Center
Van der Boechorststraat 7 - J275,
1081 BT Amsterdam

Email: cvrmaster@vumc.nl .
Telephone: 0031-204446345.
Interview
Dr. Dop Simonides - program director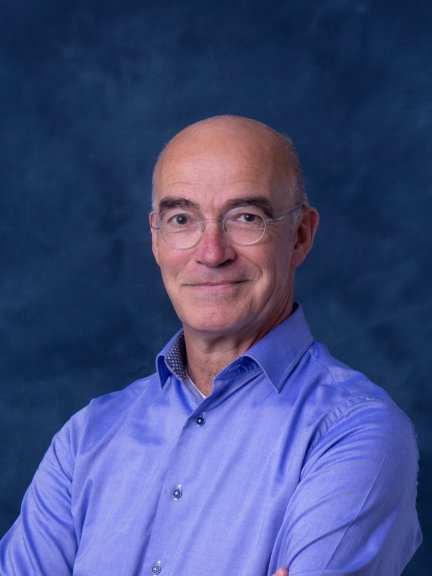 Dr. Dop Simonides
After obtaining my PhD in medicine and biochemistry in Leiden in 1985 I joined the department of Physiology at the VU. Following a sabbatical in the early nineties at the Brigham and Women's Hospital in Boston, my research focus has been on the mechanisms underlying the development of chronic heart failure. Next to that I have been involved in developing physiology classes and practical courses and continue to coordinate several teaching courses at the VU and VUmc.
The Master Cardiovascular Research
For several years I had been a lecturer and examiner of a course of the Master Cardiovascular Research when in 2015 prof. Christa Boer, the newly appointed director, proposed a complete overhaul of the curriculum. I agreed to help implement her vision of the Master and be coordinator/examiner of the compulsory first semester. The new program was launched in 2016 and it has proven to be a success. The Master ranked first of 18 Biomedical Master programs in the Netherlands in the 2018 Student Survey and it is only the second such program in Europe. The strength of the program is a combination of the small scale (24 students at most), a focused range of topics presented by over 50 clinical and pre-clinical researchers, with an emphasis on new developments and challenges, and solid program management by the coordinator. As a consequence of the format, in the first semester students already begin to develop a network of contacts enabling them to find internships of their choice. Without exception, the mix of Dutch and foreign students creates a committed and enthusiastic group of future scientists.
The next few years
It is really gratifying to see students present amazing work from their major internship at their graduation, when two years earlier they were timid and anything but confident. So I did not have to think twice about applying when the position of director became available. The challenge for the coming years will be to keep the curriculum up to date, addressing new areas of research, therapy or diagnostic modalities as they develop. The vast expertise within the Amsterdam UMC will allow us to do just that. But equally important, we need to know what the job market requires, so we can prepare our Masters to be the best candidate for a position, be it in academia or industry.
Interview
Dr. Miriam van Strien - program coordinator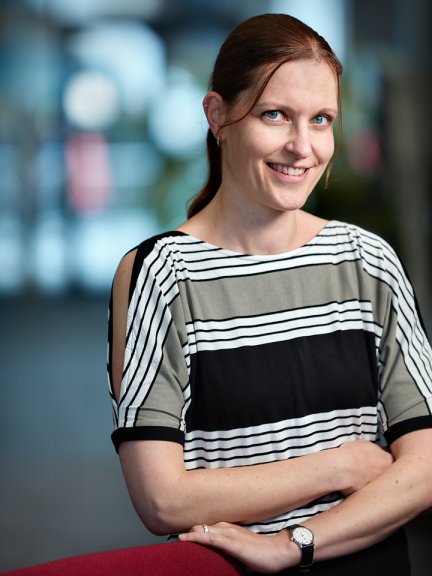 Dr. Miriam van Strien
Career switch
In May 2017, I started as program coordinator of the master Cardiovascular Research and the master Oncology at VUmc School of Medical Sciences. After graduating from the master Oncology at VUmc, I started my PhD at the VUmc, department of Anatomy and Neurosciences. After finishing my PhD in 2010, I worked as a postdoc at the Netherlands Institute for Neuroscience in Amsterdam and the Brain Center Rudolf Magnus in Utrecht. Besides doing research in the lab, I was supervising bachelor-, master- and PhD students and more and more involved in teaching. Since I like to coordinate, improve the quality of education and work with students and scientists, my present job as coordinator of 2 master programs at the VUmc School of Medical Sciences is really something for me.
Motivated students
What I certainly like about the master Cardiovascular Research is that it is a small scale international master program. The level of education is high and the students that are currently enrolled in the program are very motivated. I think that this master program is a good preparation for the future career of our students. Last year, the midterm review of our master program was very positive. In addition, the master Cardiovascular Research reached the 1st place of all biomedical masters in the Netherlands in the Dutch Student Survey 2018.
Goals
As program coordinator, I am the contact person and can advise (new) students on practical matters concerning the master Cardiovascular Research program. One of my goals is to continuously optimize the quality of our master program together with Dop Simonides and therefore the feedback of our students is very important. For example, we are improving the content of our courses. I like to help our students with the planning of their career path and making the right choices during the program. I have modified the Academic Core which is designed to prepare students for the transition from student to scientist. The academic skills obtained in the Academic Core will help the students to build up their future career in Cardiovascular Research.
Interview
Margot Venhuizen - Master student 2016
Margot Venhuizen
You started our master program last year. When did you know that you would like to do this master?
Even in the first year of my bachelor's program in Health and Life Sciences, I was most interested in courses covering heart and vessel related topics. After having attended many master's information days in several cities, I knew for sure that I wanted to start this master's during the presentation on one of the VU Master evenings. For me, the main motivation was the fact that I would be able to perform clinical research. I believe that the aspects involving clinical research, were what I was missing during my bachelor's internship.
How was the admission procedure?
The admission procedure was less difficult than I expected it to be. I was convinced of my motivation to start this master and I knew my grades would be good enough. They do have a preferable grade in mind for your bachelor thesis for example, but I believe that your motivation and recommendation letters are most important. The more difficult part for me was the scientific article we had to summarize and critically comment on during the assessment. It was good enough to get accepted, but I wouldn't recommend reading what I wrote.
Which courses or events did you like the most during your first year?
The first thing that comes to mind is the study trip that almost the whole group went on to attend a symposium in Florence about cardiomyopathies. We rented a house for two nights and got to know each other on a different level. Our group grew very close over the course of last year. With our new coordinator Miriam van Strien, we recently were able to get funding for a study trip at the end of September to Belgrade to attend a symposium on diabetes, coronary artery disease and heart failure. This time, because of the financial help of ACS, the whole group is able to attend the symposium.
Can you tell us something about your minor internship?
I have been at the Anesthesiology department for over five months now, where we are investigating the effect of the heart-lung machine on the microcirculation of lean and obese patients who need to undergo cardiac surgery. By measuring the microcirculation under the tongue with a camera before, during and after surgery, we are able to see a change in perfusion of the micro vessels. I am happy to be involved in a clinical study of this type, since performing clinical research was my main motivation to start this master. This minor internship has many different aspects, from collecting data on the ward and the OR to analyzing the micro vessel videos. With a lot of teamwork in the beginning, I got more confident in performing this study independently.
What are your plans for the second year?
The plans for my second year are not set in stone yet, but they are slowly evolving. I do know that I will stay at the VUmc for my major internship starting around February, this time at the department of Nephrology. My optional courses will mainly be focused on business management, since I have not had courses on that topic during my studies. I am looking forward to the new input from these courses. For my literature study, I would like to gain more insight into (familial)hypercholesterolemia and review the current status of the effect of different statins.
Where do you see yourself in 5 years?
I still find it difficult to answer this specifically. I can see myself working in an environment which is dynamic, involving a lot of communication and planning. Trying to obtain a PhD position is on my mind, but I am also trying to create more opportunities for finding a job after my master that will suit me well.
Interview
Luuk Hopman - Master student 2016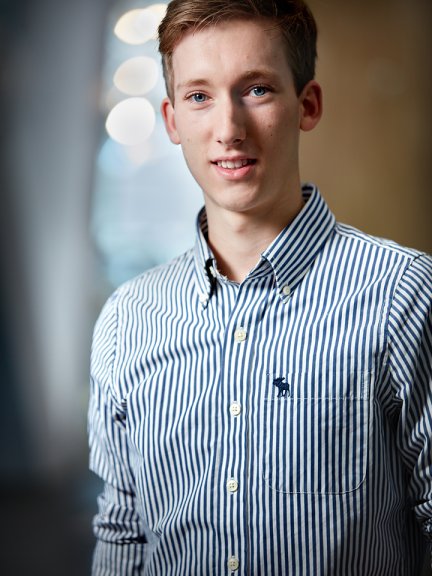 Luuk Hopman
Why did you choose the master Cardiovascular Research?
This, for me, consisted of two reasons; first of all because cardiovascular diseases are a major cause of death in the world. Especially since the number of people who get diabetes or obesity is increasing, more research is needed to decrease the risk of getting cardiovascular diseases. By doing this research master, I hope that I can contribute to this. Secondly, I chose this master because of the reputation of the program. The education is given in small groups which facilitates interesting discussions and interaction with the teachers. Additionally, we have the possibility to build a valuable and useful network of clinicians and researchers.
What do you like the most about our master program?
The diversity in pre-clinical and clinical education. I noticed that I am not the type of person who is fascinated by hard-core lab research. The clinical approach of this master program gives me the possibility to do clinical research as well. Thereby, I still got the view and knowledge of someone with a biomedical background. Therefore, I am able to understand most parts of pre-clinical research. This makes it attainable for me to make a meaningful connection between the lab and the clinic.
Can you tell us something about your minor internship?
I did my minor internship at the cardiology department of the VUmc. Here I performed research concerning stimulation of collateral vessel growth in mice by a specific antibody. My internship was very diverse; I helped with animal experiments in the VU animal experiment center, I performed tissue staining at the pathology lab, and I learned to use the fluorescent microscope at the O|2 Lab Building. It was a very interesting and fun period of the first year. The cardiology department is really nice, everyone is very kind, respectful and helpful. I learned a lot about the clinic as I could attend medical procedures and attended the clinical handover in the mornings. Besides this, the department gives a lot attention to education. We had talks from clinicians and researchers approximately four times per week. The internship gave me a perfect balance between the clinic and the pre-clinical research I was doing.
What are your plans for the second year?
First, I'm going to do my literature study. This will be at the department of internal medicine and will be about cardiovascular outcome trails in diabetes. Thereafter, I will fill in my elective courses with a course on communication, organization and management, and the course Business Management in Health and Life Sciences. These two courses are both in the field of management, that is because I have never had courses on this topic. Doing so, I will try broaden my horizon. For my major internship, I will hopefully go to Montréal (Canada), where I can do research in the field of cardiac MRI at the McGill University Health Center. I had a conversation with the concerning professor and I am promised a place at McGill.
Where do you see yourself in five years?
During my internship at the cardiology department, I got interested in imaging the heart by the weekly imaging-education the department offered. I started to see that MRI is a powerful diagnostic tool to identify heart diseases. By performing an internship in the field of cardiac MRI, I will find out if cardiac MRI is really my passion and if I will continue in this field of research. If so, hopefully I can pursue a PhD on this subject. The fact that the cardiology department is performing a lot of MRI research and that there is a state of the art VUmc Imaging Center under construction might give possibilities to do so.
Interview
Rocio Muniz - Master student 2015
When did you know that you would like to do the master cardiovascular research and why?
I realized that I wanted to do the Cardiovascular Research Master during my Bachelor Internship at the Physiology department at the VUmc. I was working at the Angiogenesis Research group under the supervision of Dr. Koolwijk and Dr. Wust. I was enjoying the internship and the cardiovascular topic greatly so I decided that I wanted to have a deeper insight by doing a Master in this field.
Which courses did you like the most?
First, Clinical aspects of Heart and Circulation. I considered that for a scientist it is very important to have a clinical notion of the disease itself (specially related to the symptoms and diagnosis), and this subject covered it. Secondly, Vascular function and metabolic disease. I find metabolic diseases very interesting and this course offered many different lectures approaching the last scientific findings of vascular complications that appear in metabolic diseases from a physiological level.
Mention three positive things of the master program
The majority of the lectures of all the courses offered were based in current scientific studies going on in science, so you really keep updated on the field. In addition, this master offers you the possibility to develop in the areas you are more interested in, for example by selecting the labs and research centers of your preference to perform both Minor and Major internships and also to select the optional courses that adjust better to the student preference. Finally, the classes are usually formed by 11-15 students, so keep a close interaction with the lecturer and the other students in the class. Also, I would like to say that the professors are always willing to help to understand and digest the content of the courses.
You received a PhD grant, can you tell us something about it?
It is a European PhD fellowship under the Marie-Sklowdowska- Curie grant agreement. It is called INPhINIT. This PhD grant will enable me to perform my PhD at the National Cardiovascular Research Center in Madrid in Atherosclerosis.
Where will you be in 5 years?
Probably in a Postdoc position in a European Cardiovascular Research Center.
Interview
Laween Uthman - Alumnus Master program & PhD student at AMC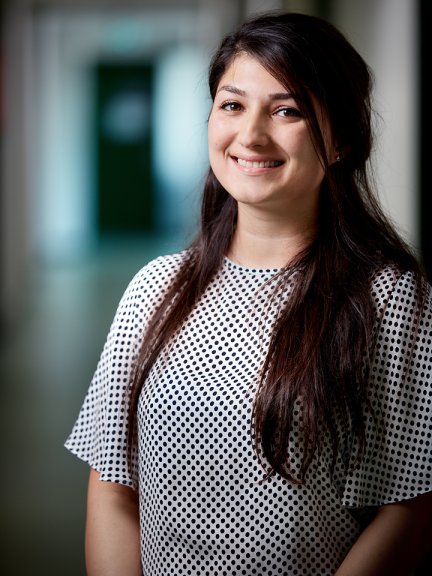 Laween Uthman
Why did you study the master Cardiovascular Research?
This master really brings clinical and basal research together and gives students the ability to learn to work in multidisciplinary fields. This is the reason why I specifically chose this master program. Of course the cardiovascular field is emerging and very interesting to study nowadays (#1 cause of global death), but the translational and collaborative aspects are the reasons why this master program stands out next to other biomedical masters.
What did you like the most of this master program?
In this master, I as a student, had a big window of opportunities for noticing all kinds of cardiovascular research and getting in contact with the right expert in the field that was in my interest. Besides, I think the small group of students made room for more personalized and intense education than a regular programs.
Was it easy for you to find a job?
Yes and no. As there are not many academic positions in research, I think we as researchers have quite a difficult path to walk towards a scientific career. But I really felt that doing a research master that is concentrated on cardiovascular research per se gave that extra push for me to be more confident on my job interviews, which eventually got me my current job.
Can you tell us something about your PhD position?
I'm currently a PhD student, working on understanding why this new type 2 drug called Empagliflozin has such great beneficial effects on heart failure. My studies focus on what happens in cells, in whole organs and we also perform small animal experiments. The lab I work at is named LEICA and is a combination of anesthesiology and intensive care. I have two great supervisors that help me throughout my research. And we work together with quite some clinical and non-clinical departments within the academic center.
Where do you see yourself in 5 years?
In 5 years, I would like to still be doing research in the lab, hopefully as a postdoc. At this moment, I'm not certain whether I would like this to be an academic or non-academic lab, but we'll see which paths I will cross ahead.