On Friday December 9th, the second edition of the HPBeter symposium took place in the O2 building at De Boelelaan. HPB refers to disorders that affect the hepato-(liver)-pancreato-biliary organs. The symposium aims to gather medical professionals to improve treatment strategies and the quality of life for patients suffering from HPB disorders.
A diverse group of medical professionals and researchers from across the Amsterdam region gathered to learn about the latest developments and current state of practice in the field of HPB medicine, including both benign and malignant disorders. To achieve this, various speakers stepped up to the challenging task of presenting their work and insights gained from their many years of research and clinical experience in concise presentations. Researchers presented the latest results of their ongoing studies as well as their pending studies, and medical specialists and experts shared their insights on the use of new techniques and treatment strategies in daily practice.
Topics included:
Progress in (robotic) minimally invasive partial liver resections
·Long-term outcomes following different strategies in the treatment of pancreatitis
Optimal work-up prior to resection or ablation of colorectal liver metastases
Alternative approaches of bile duct drainage
Quality of life in different stages of pancreatic cancer
A potential breakthrough in the treatment of Crigler Najar disease.
Collaborations are imperative
A recurring theme was the importance of cooperation between hospitals, research institutes, and sponsors. It was frequently mentioned that without this cooperation, much of the research discussed at the symposium would not have been possible.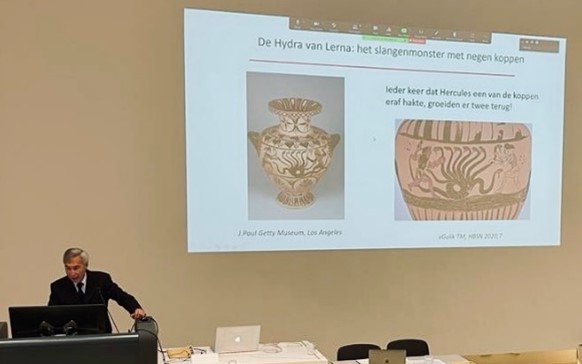 Liver-perspectives in history
To conclude the day, the audience was treated to an engaging lecture by Thomas van Gulik, who shared the rich history of liver medicine and its influence on art and science throughout the ages, from the myth of Prometheus to 16th-century anatomical drawings.
Inspired to look forward
Overall, the HPBeter Symposium 2022 was a highly successful and engaging event, providing attendees with a wealth of interesting and motivating information and insights. The symposium was made possible by Cancer Center Amsterdam and the Amsterdam Gastroenterology Endocrinology Metabolism Research institute. Planning for the next edition of the HPBeter symposium is already underway, with a focus on expanding the audience and organization both regionally and hospital-wide, among other topics. We hope to see all who are affiliated with HPB clinics and/or research in the Amsterdam region in 2023!
For more information about the HPBeter symposium contact Deesje Doppenberg.
Text by Deesje Doppenberg.
HPBeter symposium organizing committee:
Rutger-Jan Swijnenburg
Michiel Zeeuw
Charlotte van Veldhuisen
Deesje Doppenberg
Boris Janssen
Jeska Fritzsche
Remco Kersten
Marjolein Lansbergen
Anne Gehrels
Britte ten Haaft
Program HPBeter symposium