Pancreatic cancer remains today one of the most lethal and complex cancers to detect. The poor survival rate is mainly due to the fact that in the initial stages it does not manifest itself with striking symptoms. Furthermore, the understanding of these early stages is limited as is the knowledge of molecular markers for early diagnosis.
Pancreatic cancers begin in the exocrine cells that produce pancreatic enzymes that enable digestion. These cells can undergo a transformation called acino-ductal metaplasia which represents the first step in tumor progression sustained by the Kras oncogene. Through broad-spectrum genetic screening, the p130Cas adaptor protein has emerged as a potential Kras interactor and possible candidate for predicting susceptibility to pancreatic cancer development.
A collaborative international study
Dr. Elisa Giovannetti, associate professor and PI of the Molecular Mechanism of Drug activity group at Amsterdam UMC, collaborated in a recent study with Dr. Andrea Costamagna and Professors Emilio Hirsch, Sara Cabodi and Miriam Martini from the Center for Molecular Biotechnology of the University of Turin, Italy. The researchers analyzed human pancreatic tumor samples and mouse models of pancreatic cancer of increasing aggressiveness in order to further unravel the relationship between p130Cas and pancreatic tumorigenesis. The study demonstrated that p130Cas acts downstream of Kras to increase PI3K-AKT signaling required for acino-ductal metaplasia and subsequent tumor development.
A better understanding to improve future clinical management
The research also contributes to a better understanding of pancreatic cancer prognosis. Dr. Giovannetti showed that high expression of p130Cas correlated with a worse prognosis of pancreatic cancer patients. "The discovery of key proteins that regulate the early stages of tumorigenesis is fundamental to fully understand this pathology and to identify new potential molecular markers useful in diagnostics and therapy," said Dr. Giovannetti.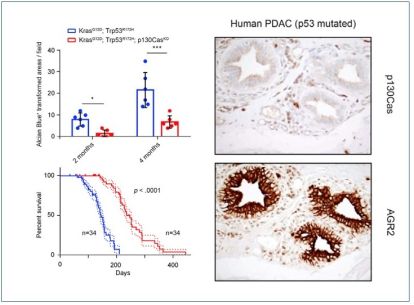 Figure illustrates a reduction in transformed areas (A and increased survival (B) in pancreatic cancer mouse models without p130Cas adapter protein. Left panels shows a representative immunohistochemistry staining for p130Cas and AGR2 in human p53-mutated pancreatic cancer tissue with low p130Cas expression.
For more information, contact Dr. Elisa Giovannetti (e.giovannetti@amsterdamumc.nl), or read the publication: Costamagna, A., et al. "Docking protein p130Cas regulates acinar to ductal metaplasia during pancreatic adenocarcinoma development and pancreatitis" in Gastroenterology.
At the Cancer Center Amsterdam Dr. Giovannetti is working on several studies on new therapeutics for pancreatic cancer in collaboration with Prof. Geert Kazemier, Prof. Connie Jimenez, Dr. Maarten Bijlsma, and Dr. Peter Sminia.
Funding for this work was provided by Italian Association for Cancer Research (AIRC) and Dutch Cancer Society.
Text by Dr. Elisa Giovannetti