PhD students, postdoctoral researchers, research technicians, research nurses and laboratory staff members can apply for Cancer Center Amsterdam travel grants to visit institutions abroad to learn skills or techniques that can be implemented at Amsterdam UMC upon their return. Jantine Röttgering, a PhD candidate at the Brain Tumor Center Amsterdam UMC, visited the University of California San Francisco (UCSF) and joined the Lower Grade Glioma Research Collective (LoGlio), a group specialized in investigating cognitive deficits in patients with brain tumors.
Gliomas are a rare type of brain cancer and patients often suffer from fatigue and cognitive deficits that greatly impact their quality of life. At Cancer Center Amsterdam, Jantine Röttgering performs clinical research with other members of the GRIP research group to better understand and treat fatigue utilizing cognitive behavioral therapy. Jantine explains: "Even though fatigue and cognitive deficits are among the most frequent and burdensome symptoms experienced by these patients, their etiology remains unclear, and consequently, not many effective treatments exist."
More data means more power
Jantine: "Thanks to the CCA travel grant, I spent five months at UCSF with the LoGlio Cognitive research group led by Dr. Taylor, a neuro-oncologist, and Dr. Weyer-Jamora, a neuropsychologist. We joined forces to better understand how and why fatigue and cognitive deficits are linked in patients with glioma, and what we can learn from each other in terms of finding effective treatments."
In San Francisco, Jantine worked to set up a large joint database including UCSF and Amsterdam UMC brain tumor patients including tumor and treatment characteristics, several patient-reported outcome measures, and neurocognitive testing data. "Large datasets on cognition and self-reported outcome measures are not readily available. This multinational database is unique in its kind and has already provided us with new insights on the interplay between fatigue and cognition in relation to different tumor types and patient characteristics," says Jantine.
Hands-on experience
At UCSF, Jantine learned about many studies investigating therapies and other novel lines of research during research meetings and seminars. In the Brain Tumor Center clinic with Dr. Taylor, she learned the ins-and-outs of the American healthcare system and neuro-oncological care models specifically.
"I was able to speak with many patients about their disease and the symptoms they are experiencing. These were always humbling and precious conversations. I have expanded my knowledge of neuropsychological testing and cognitive rehabilitation in these patients and how the assessment and treatment of fatigue and cognitive deficits are integrated into clinical care at UCSF."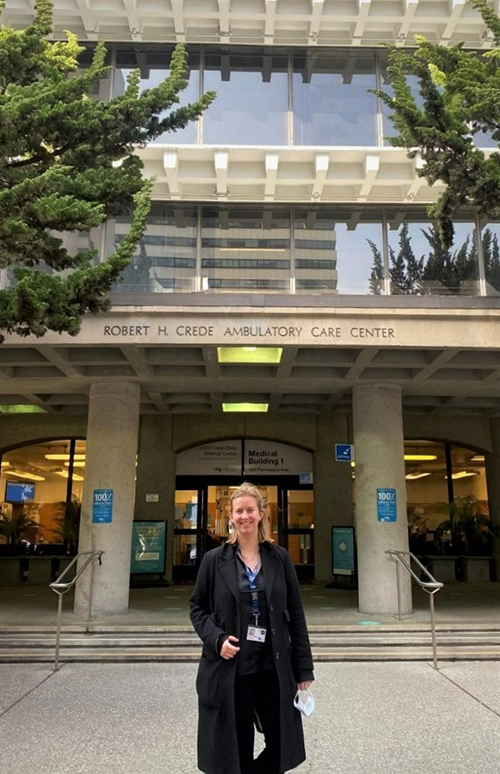 Jantine Röttgering in front of the UCSF Helen Diller Medical Center. The building is located on top of a hill and provides great views of the Golden Gate Park and the Golden Gate Bridge.
Dissemination
Back in Amsterdam, Jantine reports that joining forces with UCSF provided a better understanding of how and why fatigue and cognitive deficits are linked. She already shared these new insights with Cancer Center Amsterdam scientists affiliated with GRIP research group and plans to present the results to other Quality-of-Life researchers. Jantine: "Together, we are pleased to be working on two scientific manuscripts which will also be included in my PhD thesis! I would like to thank Cancer Center Amsterdam for awarding the travel grant and giving me the opportunity to do research at UCSF. This has been a very valuable experience, both scientifically and personally."
For more information, contact Jantine G. Röttgering.
Researchers involved at Cancer Center Amsterdam
Jantine Röttgering
Dr. Linda Douw
Prof. Martin Klein
Prof. Philip De Witt Hamer
This article was created for Cancer Center Amsterdam.