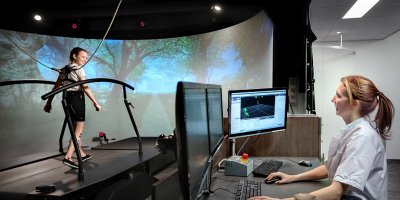 Amsterdam Movement Sciences
Workshop 'Presentation skills for PhDs: Giving an audience-focused lecture'
Course & workshop
Start date:

13 april 2021
We warmly invite you to this AMS workshop, that provides you a perfect opportunity to work on your presentation skills!
If you would like to deliver your content more effectively at conferences and public events, come to this inspiring workshop. You will learn about body language, voice and stage presence. You will discover how to capture the attention of your audience more by being truly audience-focused. And you can acquaint yourself with a different structure for your content that will lead to more impact with your conference talks.
In advance you will prepare a mini presentation that you will use to immediately apply all the theory to. The workshop is like a rehearsal space in which you can practice and play with the material. The trainer will give stage directions that will enhance your delivery.
Karin Herrebout has helped hundreds of scientists, from students to professors, to present more effectively. She works as a consultant, trainer and coach, www.greep.com and was originally trained as a drama teacher and professional storyteller.
| | |
| --- | --- |
| Start date: | |
| End date: | |
| Time: | |
| End time: | |
| Max Participants: | 12 |
| Location: | Zoom Meeting |