The Amsterdam UMC Doctoral School supports a new generation of excellent research professionals during their PhD trajectory
Key-activities are providing information, offering coaching and support, and courses. These services are organized in four core services together with Doctorate Affairs: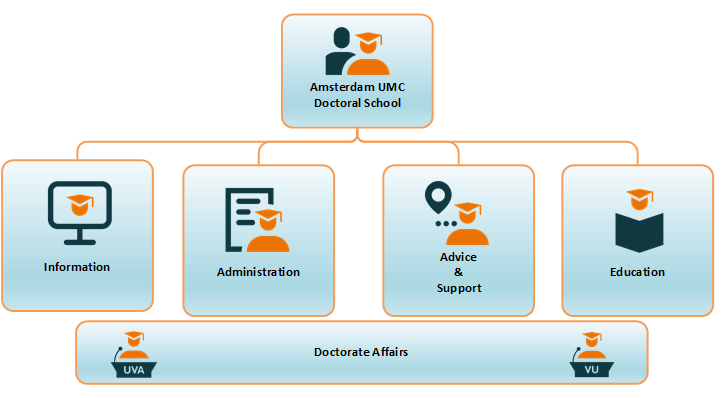 In case you would like to quickly know more about de Doctoral School have a look at our animation video. This video shows in one minute who we are and what we stand for. In addition on the same page you can find information and pictures of our team members and their roles
What does the Amsterdam UMC Doctoral School do for our PhD Candidates and Supervisors?
Information
It is important that both you and your supervisors stay well informed about important aspects of your PhD trajectory. The Amsterdam UMC Doctoral School provides up-to-date information through various channels and will answer all your questions. Usually we can help you right away, otherwise we will refer you to the people or organization who can best provide you with the information you require
Also read the Doctoral School newsletters for PhD candidates and for supervisors
Administration
In order to have a good overview of all PhD trajectories and to offer you and your superviors the best support, it is important that we register everyone centrally as soon as you have started your PhD trajectory. Administration of the AMC/UvA PhD trajectories is on paper. Administration of the VUmc/VU PhD trajectories is in Hora Finita. Check the different steps on the Doctoral School website; for AMC/UvA PhD candidates and for VUmc/VU PhD candidates
Advice & Support
The Amsterdam UMC Doctoral School team can also offer you advice and guide you through challenging steps of your PhD trajectory. We have fixed contact moments but we can also coach you where necessary. PhD candidates who are in need of somebody to talk to or to reflect with, can contact our PhD Advisors
Education
Next to your research project, as a PhD candidate, you are required to follow a certain number of courses during your trajectory. The Amsterdam Doctoral School has a centrally funded range of courses, which is specifically tailored to facilitate your development both at the scientific and personal levels
Doctorate Affairs
Your PhD trajectory will culminate in your PhD defence, which requires completing a series of steps in agreement with the Doctorate Regulations. The office of Doctorate Affairs of AMC/UvA and VUmc/VU respectively, will support you throughout this process. All information and steps a PhD candidate and the supervision team have to take are listed on our website
or
or