Stephan Huveneers is Principal Investigator of the Vascular Microenvironment and Integrity lab within the department of Medical Biochemistry. His lab is mainly interested in the impact of mechanical forces on endothelial interactions with the extracellular surroundings and the contacts between endothelial cells by using advanced microscopy approaches.
The integrity of healthy blood vessels is secured by endothelial cells that form a barrier layer between the blood and tissue. Blood vessels are part of a fascinating dynamic environment. The endothelium is capable of adapting rapidly to the mechanical forces that are derived from changes in blood pressure, blood flow, or stiffening of the vessel wall.
This implies that the endothelium contains unique mechanisms to protect the blood vessels and prevent vascular leakage. Indeed, it turns out that the endothelial cells have various adaptive interactions that are crucial for sensing forces from their tissue environment.
Stiffness-related vascular disease
Age is one of the most important risk factors for the development of cardiovascular disease and is strongly associated with vascular stiffening. Pathological stiffening disturbs endothelial integrity, increases vascular permeability and inflammation, as well as the development of atherosclerosis and hypertension.
We envision that by understanding the endothelial pathways that sense vascular stiffening, trigger permeability and inflammatory processes, we will be able to lay the groundwork for new treatment options in cardiovascular disease.
Seeing is believing: using advanced microscopy approaches to visualize the active machineries within endothelial cells
In light of this research goal, we are very pleased to be the recent recipients of a grant from the Rembrandt Institute for investigating the physical interactions between endothelial cells and T-cell subsets during the development of atherosclerosis. This will be a collaboration with the labs of Margreet de Vries (LUMC) and Jaap van Buul (Sanquin).
Dynamic endothelial contacts
A large part of our group is investigating the impact of mechanical forces on endothelial interactions with the extracellular surroundings and the contacts between endothelial cells. We are studying the making and breaking of those interactions in the context of broad fundamental questions:
How do contacts form between neighboring endothelial cells?
How do endothelial cells attach to the extracellular matrix and move?
How do endothelial cells form new blood vessels?
How does the endothelium repair vascular injuries?
Can we target the endothelial contacts to normalize the vasculature in disease and improve therapeutic treatments?
By using advanced microscopy approaches we can visualize the active machineries within the endothelial cells during those processes. We are developing tools to fluorescently label molecular complexes, which will allow us to see those dynamic responses live and to pinpoint when and where force-dependent events take place.
Typical experiments in the lab include: genetic modulations in primary human endothelial cells, culturing vascular sprouts in 3D, applying flow, imaging the development of vessels in fluorescent zebrafish, and mapping the organization of the endothelium within blood vessels from patient tissues.
Based on the research lines that were funded by a Vidi grant and supported by ACS, we have now discovered several important molecular players that protect the endothelium on-demand in response to mechanical forces, such as vessel wall stiffening.
We are currently investigating their role in angiogenesis and their importance in the development of stiffness-related vascular diseases. An exciting next step is to validate whether those molecular processes can be targeted to restore barrier function in vascular disease.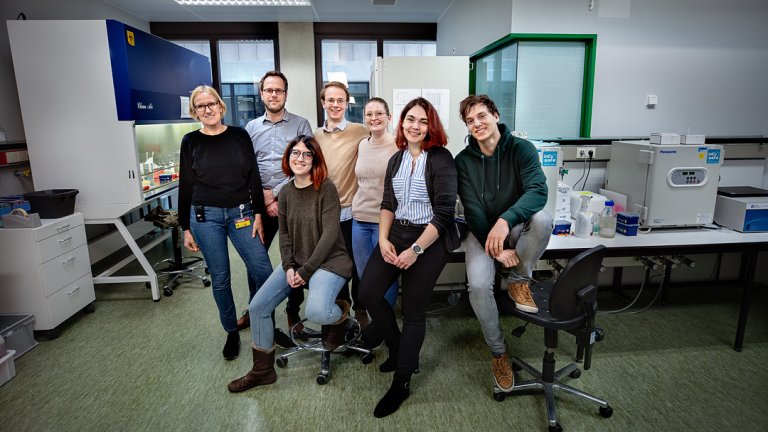 The Vascular Microenvironment and Integrity lab: Annett de Haan, Stephan Huveneers (PI), Ana Angulo Urarte, Reimer Janssen, Beau Neep, Vanessa Meyn, Aukie Hooglugt
This article is published in July 2020 in the ACS magazine 2020, page 18-19.
Researchers involved