The Rheumatism Care and Gender Guide helps raise awareness of gender differences in rheumatism
Men and women with rheumatism experience their disease and its treatment very differently. Aspects in which they differ include: complaints experienced, side-effects of medication, treatment preferences, integration of the disease and treatment into daily life and wishes with regard to information and support. Care providers are not always aware of these differences, as research by Nivel shows.
In order to raise awareness about and pay attention to male-female differences in rheumatism during a consultation between health care provider and patient, the tool 'Attention Guide Rheumatism Care and Gender' has been developed.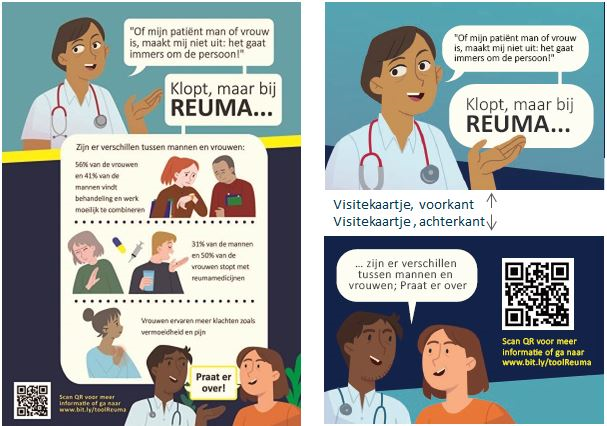 The 'Rheumatism Care and Gender Signpost' tool consists of a poster for the consultation room or waiting room, accompanied by business cards for patients. The tool also contains a number of practical tips for both care providers and patients about discussing gender differences in rheumatism during a consultation. This information is included on the Nivel website page with the tool and easily accessible via a link on the poster and on the business cards.
Differences between men and women in rheumatology care The insights that are central to the tool come from a literature review on gender differences in the treatment process of people with rheumatic diseases, such as rheumatoid arthritis, psoriatic arthritis and Bechterew's disease. Research shows that women are more likely to have complaints at the time of diagnosis, such as pain and fatigue, compared to men. In addition, more women say they find it difficult to combine treatment with other activities, such as work and leisure activities. Also, more women stop treatment earlier and experience more side effects compared to men.
The research project was funded by ZonMw, within the framework of the Gender and Health programme. The research was realised in cooperation with ReumaNederland, Amsterdam UMC (location VUmc) and UMC Utrecht.