Researchers from Cancer Center Amsterdam and the Dutch Pancreatic Cancer Group showed that a portable, fully automated bi-hormonal artificial pancreas developed by Inreda® Diabetic improves glucose regulation in patients whose entire pancreas has been removed. As a result, patients have more freedom in daily life with less strict regulation of diet and exercise.
Total removal on the pancreas (pancreatectomy) is sometimes necessary for patients with pancreatic cancer or with extensive pancreatic cysts that can develop into cancer. Total pancreatectomy has lifelong consequences. Patients often have difficulties regulating their blood sugar and absorbing nutrients from food, and need to take supplemental enzymes and hormones (insulin and glucagon) that the pancreas once produced. Strict diet restrictions and regular monitoring of blood sugar is a challenge that has a major impact on the quality of life of patients.
Good alternative?
The artificial pancreas is an automatic system that independently regulates the blood glucose level by administering insulin and glucagon to ensure that blood glucose levels remain as stable as possible. It is worn as a portable device in front of the body in a belt or hip bag.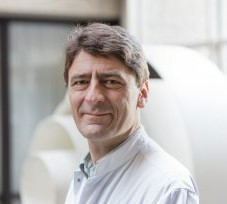 The artificial pancreas works with both hormones (glucagon and insulin) and has a self-learning algorithm that allows the treatment to adjust per patient.
Dr. Charlotte van Veldhuisen and colleagues from the Dutch Pancreatic Cancer Group, together with Inreda® Diabetic, examined the efficacy and safety of the artificial pancrease in patients after total pancreatectomy in a randomized crossover clinical trial. Their results were published recently in JAMA Surgery.
Improved glucose regulation
Ten adult outpatients after total pancreatectomy were randomly assigned to wear an artificial pancrease for seven days followed by seven days of standard diabetes care (insulin pump or pen therapy).
The research shows that the artificial pancreas greatly improved glucose regulation. The percentage of time spent in normal glucose levels during a 7-day treatment increased from 57% with a standard treatment to 78% with the use of the artificial pancreas.
Dr. Charlotte van Veldhuisen: "The patients were usually very satisfied with the freedom that this device provided. For example, some said they can eat everything again after years of dietary restrictions without their glucose levels fluctuating enormously. They were also able to do much more activity with the device." There were no serious adverse events reported.
Prof. Marc Besselink: "However, a larger follow-up study is needed in which 80 patients wear the artificial pancreas for a longer period of several months." This follow-up research has now been funded by the Dutch Cancer Society (KWF Kankerbestrijding) and will start later this year.
For more information contact Dr. Charlotte van Veldhuisen, the company Inreda® Diabetic, or read the publication here:
Van Veldhuisen C.L., et al. (2022) Bihormonal Artificial Pancreas With Closed-Loop Glucose Control vs Current Diabetes Care After Total Pancreatectomy: A Randomized Clinical Trial. JAMA Surg. doi:10.1001/jamasurg.2022.3702
This article was adapted from an article published on Tulpintranet.nl of Amsterdam UMC.