Josine de Winter, researcher in the Physiology department, was awarded the 'Jaarprijs' for Neuromuscular Diseases of the Prinses Beatrix Spierfonds. She received this award for the best scientific article in the field of muscle diseases in 2020. In this article, published in The Journal of Clinical Investigation, she describes new insights into the disease mechanism of nemaline myopathy.
The research of Josine de Winter, recently awared with a Veni grant, focuses on the muscle disease nemaline myopathy type 6 (NEM6). This hereditary muscle disease is caused by mutations in the KBTBD13 gene (NEM6). "In addition to weakness, NEM6 patients have slow muscle relaxation, compromising contractility and daily life activities," de Winter writes in her article. "This impairs their ability to perform fast movements, such as running or climbing stairs." It has been known since 2010 that the disease is caused by mutations in the KBTBD13 gene, but how these mutations lead to weak muscles and slow muscle relaxation in people with NEM6 has been unclear.
[Text continues underneath picture]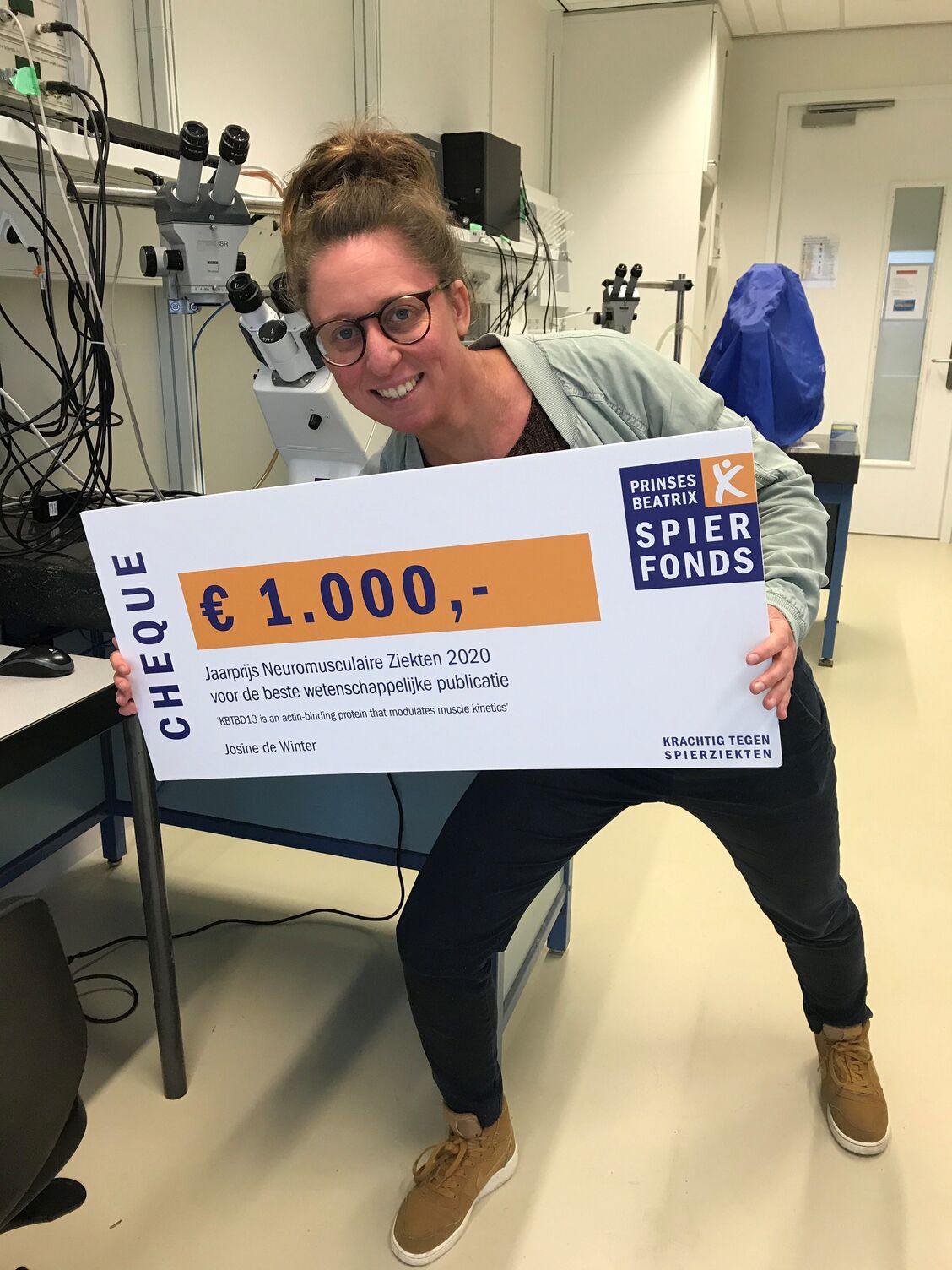 Josine de Winter received the 'Jaarprijs' of the Prinses Beatrix Spierfonds
In her article, de Winter describes a whole series of experiments that led to more insight into the role of KBTBD13. De Winter: "We discovered that KBTBD13 binds to actin - an important part of the muscle - and that mutations in KBTBD13 cause structural changes that disrupt muscle relaxation." As a result, we now better understand what exactly goes wrong in the muscles of people with NEM6. This knowledge is very important for the development of a future therapy.
The 'Jaarprijs', worth 1000 euros, is awarded annually by the Prinses Beatrix Spierfonds to a young researcher who has conducted excellent research in the field of muscle diseases.
Source: Josine de Winter wint Jaarprijs Neuromusculaire Ziekten - Spierfonds