More than 140 ACS researchers gathered at the Compagnietheater in Amsterdam to attend the 7th Annual ACS symposium on October 5. After a very long period of digital meetings, it was great to finally see each other in real life again. The Compagnietheater, a former church, was the perfect place to host this event with inspiring talks and poster sessions to exchange the latest research results in the cardiovascular field.
Young ACS put together an inspiring program in which talks were given by keynote speakers prof. Jolanda Kluin (Amsterdam UMC) and prof. Eicke Latz (University of Bonn, Germany). Eight of our ACS researchers were selected to present their work based on their abstract scores. During their talks they were able to share their latest data followed by vivid discussions. And for the first time, pitch sessions were introduced. Ten researchers had 3 minutes to convince to audience to visit their poster during one of the two poster sessions. Between sessions there was plenty of time for socializing and networking while enjoying coffee, tea and an excellent lunch. The scientific program ended with a twist by comedian Pieter de Rijk who gave an amusing fake speech as a renowed German professor in the field of immunology.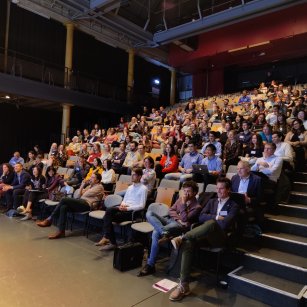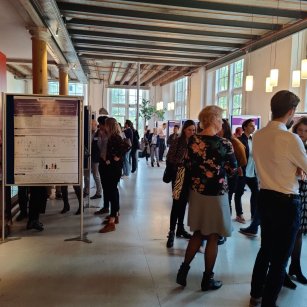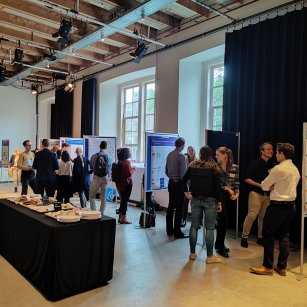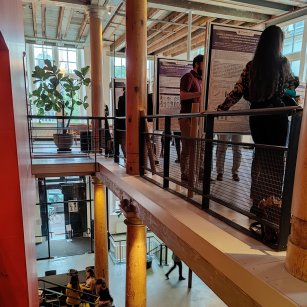 Awards
Four awards were awarded during the 7th Annual ACS symposium.
Best presentation
Tatjana Josefs (Physiology) - Aging and its effect on atherosclerosis at a single-cell level
Best publication
Laura Bosmans (Medical Biochemistry) - Glucocorticoid-induced tumour necrosis factor receptor family-related protein (GITR) drives atherosclerosis in mice and is associated with an unstable plaque phenotype and cerebrovascular events in humans; European Heart Journal 2020, 14;41(31):2938-2948.
Best poster
Myrthe Reiche (Medical Biochemistry) - B1b cell homeostasis is maintained by CD40 in atherosclerosis
Karl Harber (Medical Biochemistry) - Irg1 Derived Itaconate Controls Anti-Inflammatory Responses In Macrophages, Dampening Foam Cell Formation In Atherosclerotic Mice