Researchers at Amsterdam UMC are working hard in the ongoing fight against the global COVID-19 pandemic. With more than 120 different studies in progress, researchers and clinicians are joining forces to gain more and more knowledge into the spread of SARS-CoV-2, its treatments, the pathway to rehabilitation and the impact COVID-19 is having on society. These studies have resulted in the recent publication of the 500th scientific paper, with many more expected to follow.
Through its research and accompanying publications, Amsterdam UMC aims to contribute to the creation of scientific evidence on many COVID-19 topics. A diverse array of subjects is discussed in these publications, and the variety of collaborations with national and international partners is clearly evident.
Diversity of studies
According to Dr. Martijn van Oijen, member of the COVID-19 Taskforce Research, the scientific work carried out by Amsterdam UMC deals with a broad range of topics: "The publications cover the entire spectrum of preclinical and clinical research, from fundamental research in the field of diagnostics to impact on society," he says. Different disciplines, from both within and outside Amsterdam UMC, have come together for this effort (see figure 1).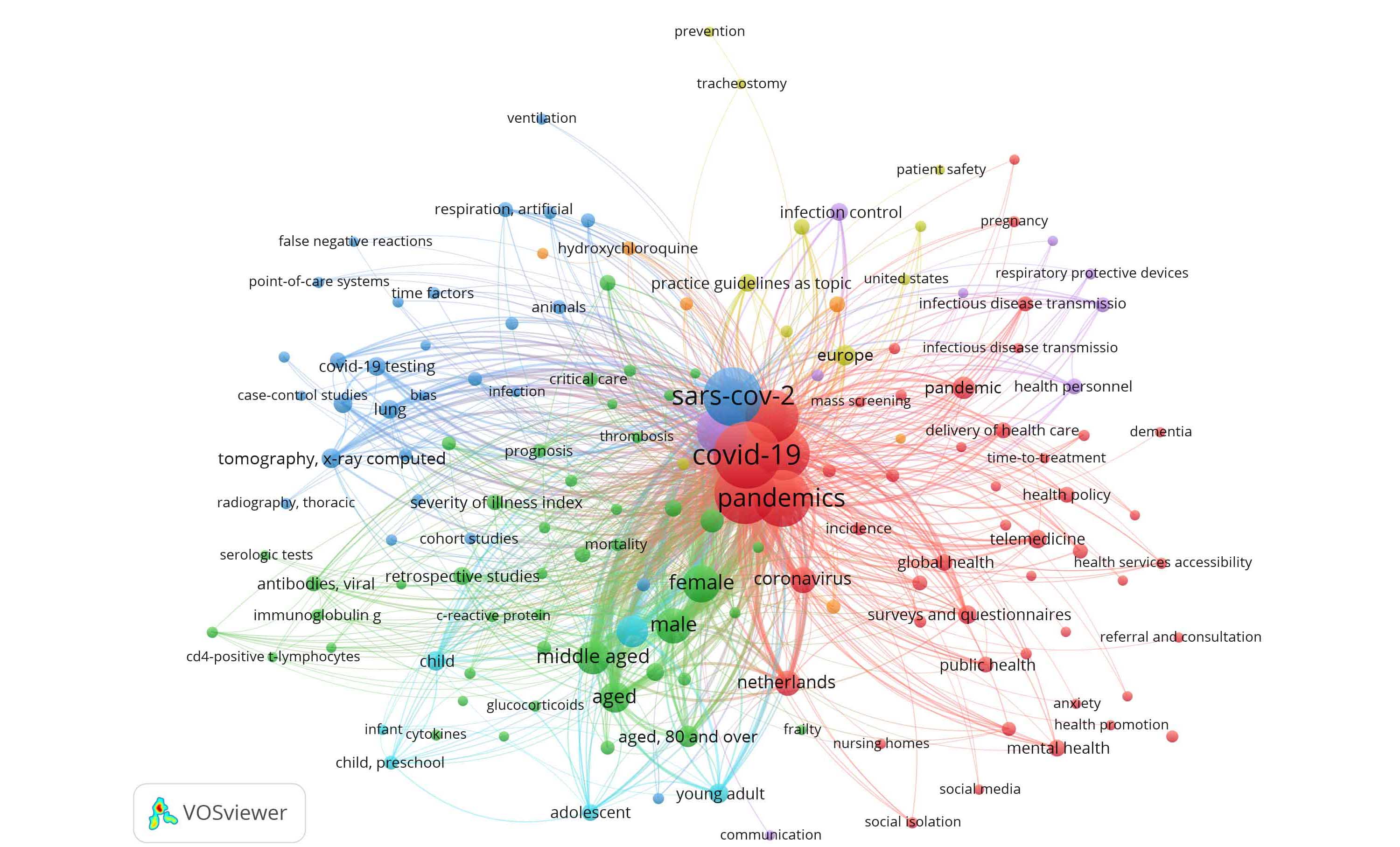 Figure 1. Visualization of the first 500 scientific publications on COVID-19 research by Amsterdam UMC.
The visualization has been generated with VOSviewer, based on the first 500 COVID-19 publications by Amsterdam UMC. The most common keywords were selected from these scientific papers and their frequency of use was measured and recorded (illustrated by the size of the circles). Keywords that often occur in combination form clusters (represented by the use of color). This makes it clear to see on which subjects and clusters Amsterdam UMC researchers are working that are related to COVID-19. Thereby, the visualization shows the richness and diversity of the Amsterdam UMC COVID-19 research. For example: Red illustrates research into the effect COVID-19 has on mental health, in nursing homes and other public health-related subjects. Dark blue represents research into the development of tests and diagnostics. Green shows, among other things, immunological research. And purple illustrates research into the infection.
Large-scale collaborations
For many of the published studies, Amsterdam UMC scientists joined forces with colleagues from other organizations, both within the Netherlands and abroad. Collaborating partners include the UK's National Health Service (48 publications), Canada's University of Manitoba (43 publications), and Harvard in the US (28 publications). As Prof. Mat Daemen, chairman of the COVID-19 Taskforce Research, explains, "We have been able to turn a potentially negative situation – one where COVID-19 would impact Amsterdam's scientific research – into a well-functioning platform where everyone has found each other. From the onset, efforts have been made to systematically collect both data and samples. The extensive COVID-19 database and biobank that this has created has turned out to be a driving force for research and partnerships."
Publications with impact
The number of scientific publications on COVID-19 to which Amsterdam UMC researchers are contributing continues to grow. The most cited articles of the moment are:
Breadth of concomitant immune responses prior to patient recovery: a case report of non-severe COVID-19 (March 16, 2020; Nature Medicine).
Incidence of venous thromboembolism in hospitalized patients with COVID-19 (May 5, 2020; Journal of Thrombosis and Haemostasis).
Using social and behavioural science to support COVID-19 pandemic response (April 30, 2020; Nature Human Behavior).
Pathophysiology, Transmission, Diagnosis, and Treatment of Coronavirus Disease 2019 (COVID-19) (July 10, 2020; JAMA).
Practical recommendations for the management of diabetes in patients with COVID-19 (June 8, 2020; The Lancet Diabetes & Endocrinology).
If you'd like to dive into the online publication database, please contact Martijn van Oijen for more information on the COVID-19 Literature Watch, or visit the National Institutes of Health's iSearch COVID-19 Portfolio.