Amsterdam Neuroscience professor Eric Reits has been awarded the Dutch Research Agenda grant (NWA-ORC). Together with 15 partners, Reits and his team will use the 5.5 million euros funding to predict, delay, and cure polyglutamine-caused neurodegeneration, with a personalized treatment as the ultimate goal.
CureQ: Predict, Delay & Cure polyglutamine(Q) caused neurodegeneration
There are over ten inherited neurodegenerative disorders that are caused by a similar DNA mutation, including Huntington's Disease. Recent trials are hopeful but also leave many questions. What is the best moment to start therapy? Can we predict age-of-onset more accurately, and do gene carriers want to know this? Are there alternative therapeutic strategies possible that don't require repeated lumbar injections? What does this all mean for very young patients? Researchers from academia and biotech, neurologists, lecturers, and patient foundations aim to answer these questions together, with a focus on patient-derived iPSC models.
Research projects on urgent issues with a wide range of cooperation partners
The research project that Reits is coordinating is one of the 28 projects that was awarded within the Dutch Research Agenda program (NWA-ORC). This program focuses on the formation of interdisciplinary teams that will bring both scientific and societal breakthroughs within reach. The entire knowledge chain and societal organizations, including public and private parties, will work closely together in these projects, including the Campaign team Huntington (www.doodgezwegen.nl) co-founded by Reits.
"It is fantastic to have co-designed this project with all stakeholders, varying from researchers and clinicians to biotech and patient families. Together we want to improve diagnostics and validate new therapeutic strategies for a terrible disease that combines the symptoms of ALS, Parkinson's, and Alzheimer's with a dominant inheritance that is too often silently passed on within families."
Consortium partners
The partners, in addition to Amsterdam UMC, are Radboud university medical center, Erasmus MC, Hanze University of Applied Sciences, Leiden University Medical Center, VU Amsterdam, Princess Máxima Center for pediatric oncology, University Medical Center Groningen, Amsterdam University of Applied Sciences, Maastricht UMC+, Proefdiervrij, Campagneteam Huntington, Vico Therapeutics, ADCA/Ataxie Vereniging, VectorY, Vereniging van Huntington.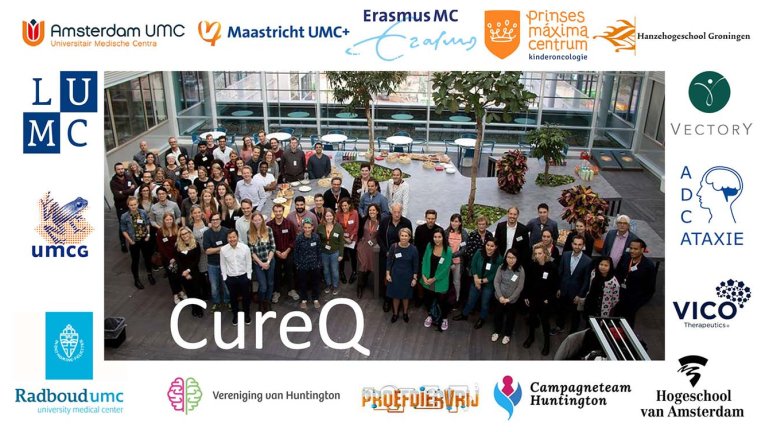 Source: NWO
Or read in Dutch on HuntingtonResearch.nl