On November 1st, 2022 Amsterdam Public Health hosted her 6th Annual Meeting. More than 400 researchers visited the conference held in the cozy De Meervaart theater in Amsterdam.
Plenary morning session
At the plenary morning session APH's director Prof. Martine de Bruijne introduced the strategic theme 'Digitalization' and program leaders of the new 'Digital Health' research program Prof. dr. Marlies Schijven and Dr. Ronald Cornet provided a short introduction about the research program and their strategic plans for the upcoming period.
Keynotes
Amsterdam Public Health invited two keynote speakers on the theme of digitalization in public health. Dr. André Marquand (Principal Investigator at the Donders Institute for Brain, Cognition and Behaviour) started off with explaining how Machine Learning methods can help predict and measure mental disorders like schizophrenia, autism, ADHD and bipolar disorder. Keynote speaker Dr. Emma Beauxis-Aussalet (Assistant Professor of Ethical Computing at VU Amsterdam) addressed privacy and ethical issues that are rising with implementing digitalization in health care and health research.
At the end of the plenary morning session PhD candidate Hafize Demirci presented her research, the implementation of virtual reality-technology in health care, and provided insight into virtual reality research within Amsterdam UMC.
VR experience room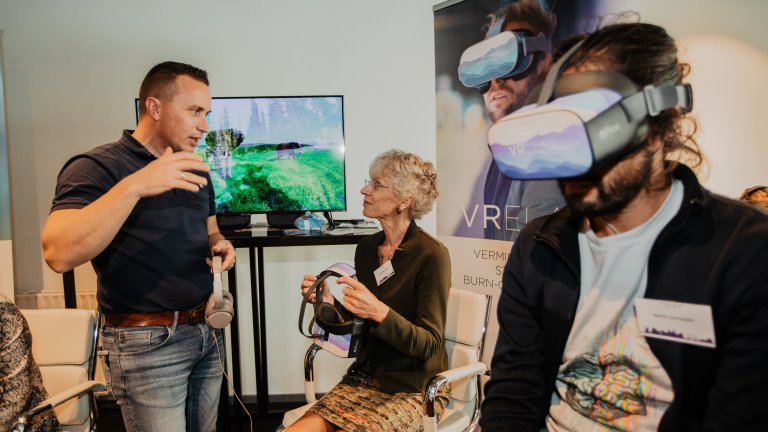 During lunch, attendees had the opportunity to get acquainted with the use of virtual reality (VR) in health and health care in our VR experience room. PhD candidate Hafize Demirci introduced the use of VR in Amsterdam UMC research shortly in the plenary opening session. In this VR Experience Room, Hafize Demirci was showing multiple ways to apply VR. Three VR companies brought their VR glasses and showed the attendees what is possible using VR in health care and research. Attendees could experience what it is like to relieve pain through VR glasses. Additionally, Amsterdam UMC 'digicoaches' were telling about their work in the hospital, where they inform and motivate departments and patients to use VR.
Parallel theme sessions
The afternoon parallel thematic sessions were hosted by the APH research programs. A recap of these sessions can be found on the APH Annual Meeting 2022 parallel theme sessions page.
APH Poster presentations and award winners
In total, 94 junior and mid-career APH researchers presented their posters. A jury, existing of program board members of the nine research programs, scored 18 pre-selected posters and a top 3 winners was chosen. The award came with money prizes in vouchers of resp. €900,-, €600,- and €300,-.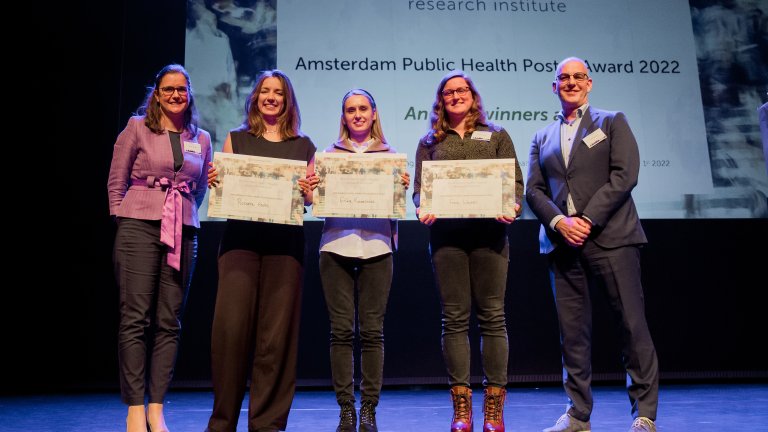 Winner: Roxanne Assies
1st Runner-up: Erika Kuzminskaite
2nd Runner-up: Fenne Wouters
APH Booster award winners
APH awarded 10 APH Booster Grants with a value of max. € 2.500,-, for a boost of professional and/or personal development to junior and mid-career APH researchers at this year's Annual Meeting. In a festive award ceremony, APH vice directors Dionne Kringos and Frank van Leth selected the lucky winners by random selection.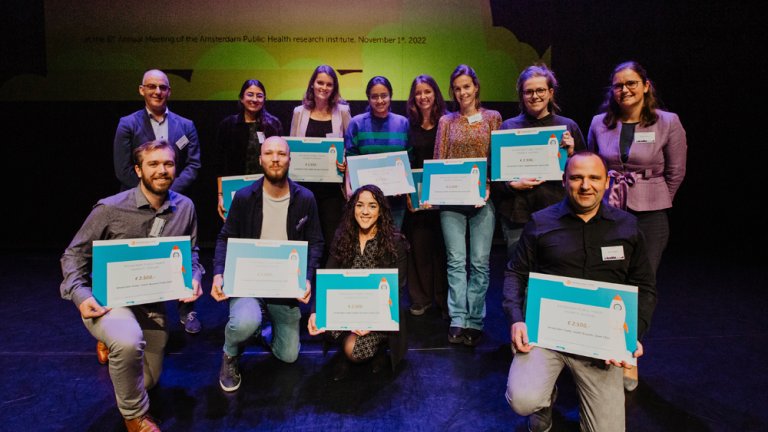 Plenary closing
The APH Annual Meeting 2022 closed this interesting and fun day with a spectacular dance show, a combination of breakdance and contemporary dance, performed by dancer and choreographer Denden Karadeniz and his team! Attendees were welcomed at the bar for some final drinks, accompanied by live music of the big band of APH researcher Hein van Hout!
Special thanks to all speakers, poster presenters, the organization, and all the attendees of this year's Annual Meeting. We welcome you back next year!
Aftermovie
Watch the video to get an idea of the day and the atmosphere!