In 2020 AGEM awarded ten clinical research matching grants and two support for clinical consensus meetings grants.
The AGEM clinical research matching grant 2020
Grant (max. €15.000) to support investigator initiated clinical research that can improve care of AGEM diseases. This grant has this year been awarded to:
Mirjam Langeveld
Early treatment, better outcome? Understanding optimal timing of treatment initiation in Fabry disease
Fabry disease (FD) is an X-linked lysosomal storage disorder caused by deficiency of the enzyme alpha galactosidase A (aGAL). Accumulation of Gb3 and its derivatives damages tissues including vascular endothelium, the heart, brain and kidneys. For over 15 years now, enzyme replacement therapy (ERT) is available in Europe to treat Fabry disease. Longitudinal studies have shown that despite ERT, cardiovascular and renal complications occur, especially in those patients that have started treatment later in life. Early treatment may improve outcome, though there currently is no evidence for improvement on clinically relevant endpoints and it is unclear whether 'early' means starting in the first or the second decade of life. In this study we will assess whether initiation of treatment early in childhood improves outcome by comparing sex, age and disease phenotype matched treated patients with untreated patients. The outcome is of particular importance, as it will help to determine whether or not this very expensive, burdensome and lifelong treatment should be initiated in very young patients.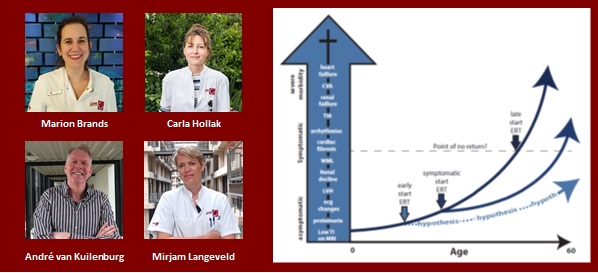 ---
Annet Bosch
Living with Galactosemia
Classical Galactosemia (CG) is an inborn error of galactose metabolism. Infants with CG develop a life-threatening illness after ingestion of galactose. Unfortunately early diagnosis and dietary treatment do not prevent long term complications which include cognitive impairment, movement disorders and primary ovarian insufficiency. In 2004 a negative effect of having CG on the Health Related Quality of Life (HRQoL) of patients was demonstrated. New HRQoL studies in CG are relevant at this time because 1) since 2004 major changes have taken place in treatment and follow up in our Galactosemia Center of Expertise, 2) patients with a previously unknown milder types of CG are found since the start of newborn screening in 2007, and 3) the evaluation of HRQoL is important for the trial readiness of CG patients as new therapeutic options are expected in the foreseeable future.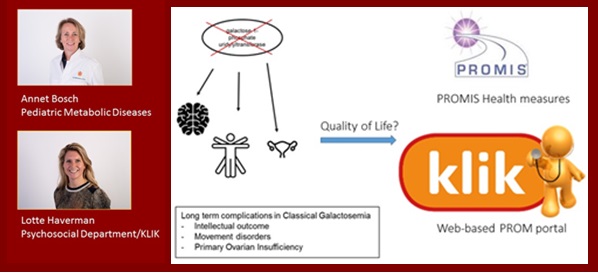 ---
Hans de Vries
Algorithm to control Postprandial, Post exercise and night glucose Excursions in a portable closed Loop format in patients after total pancreatectomy, APPEL 5+
Inreda Diabetic BV developed the first artificial bihormonal pancreas (AP) to improve treatment of diabetes by automatically controlling glucose concentrations. This system comprises continuous subcutaneous insulin and glucagon infusion with continuous glucose monitoring.
Patients who underwent total pancreatectomy will all develop insulin dependent diabetes and could experience reduced awareness for hypoglycemia. In this randomized, monocenter cross-over study (APPEL 5+) patients who underwent total pancreatectomy will be included. The study will start with a feasibility test including two patients. The main study will be performed in 12 patients and comprises a closed loop (i.e. using the AP) and open loop period (i.e. own treatment). During the closed period patients will perform their normal daily activities. It is hypothesized that the AP provides better glucose control than standard open loop therapy which will ultimately allow patients to optimally participate in society by alleviating their treatment burden and increasing quality of life.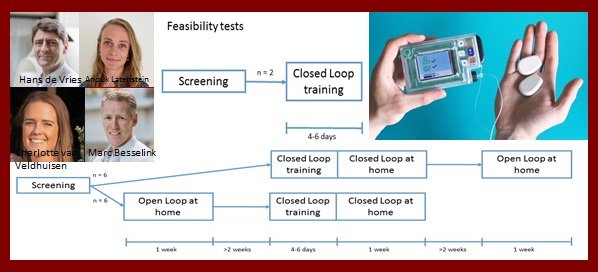 ---
Rogier Voermans
Ursodeoxycholic acid for the prevention of symptomatic gallstone disease after bariatric surgery: a multicentre, randomised, placebo-controlled, double-blind trial (UPGRADE trial)
Rapid weight loss is a major risk factor for gallstone development. Approximately 8-15% of patients undergoing bariatric surgery develop symptomatic gallstone disease within 24 months after surgery. Prophylactic administration of ursodeoxycholic acid (UDCA), an oral bile acid, can prevent the formation of gallstones after bariatric surgery by reducing bile lithogenicity. However, little evidence is available regarding the efficacy of UDCA in preventing symptomatic gallstone disease. The UPGRADE-trial is a multicenter, randomised, placebo-controlled, double-blind trial designed to investigate this. All patients (n=985) are randomly assigned to either UDCA 900mg daily for six months or placebo. Endpoints consist of: differences between the two groups in symptomatic gallstone disease within 24 months, number of cholecystectomies, newly formed gallstones on ultrasound at 24 months, side-effects of UDCA, safety outcomes, therapy compliance, quality of life, costs and revenues. The end of follow-up is expected in October in 2020.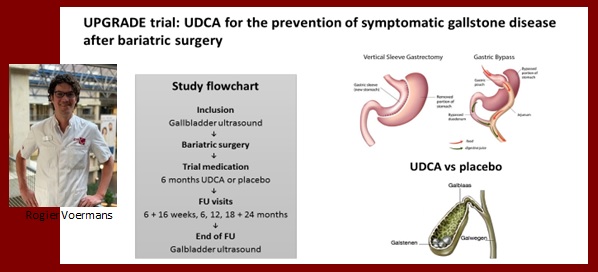 ---
Sarah Siegelaar
Time restricted eating to treat gestational diabetes mellitus
Gestational diabetes mellitus (GDM) is associated with adverse maternal and neonatal outcomes and its incidence is increasing. Risk factors for development of GDM are, amongst others, obesity and non-alcoholic fatty liver disease. Dietary advice is the first treatment step, but the optimal dietary treatment is unknown. Time-restricted-eating (TRE) is a promising approach in the prevention and treatment of diabetes mellitus causing weight loss, reduction of fat mass and improvement of insulin sensitivity in obese subjects and men with prediabetes, probably by resetting clock gene patterns. We hypothesize that TRE will be effective to treat GDM, a group with a disturbed sleep-wake pattern and hypothesized longer eating period. Pilot data from our own clinic show a lower incidence of GDM when eating <11h a day. Therefore, we will perform a randomized controlled trial to study the effect of TRE on glucose regulation, clock gene expression patterns and liver fat in women with GDM.
---
Martin den Heijer
Progesterone for Breast Development in Trans Women; Assessment of effects and safety
Trans women (male sex assigned at birth, female gender identity) receive hormone therapy in order to induce secondary female sex characteristics. Traditionally, this hormone therapy includes estradiol and anti-androgenic treatment. A potential role for progesterone with regard to breast development in trans women has not been investigated in a controlled experimental set up.
In this randomized controlled pilot trial using a factorial design, we will explore the effects on breast development of addition of progesterone to the treatment with estradiol in 90 trans women after vaginoplasty or orchiectomy. Secondary objectives include safety and patient satisfaction, mood, and sleep. The duration of the study is 12 months. Breast volumes will be determined using 3D imaging.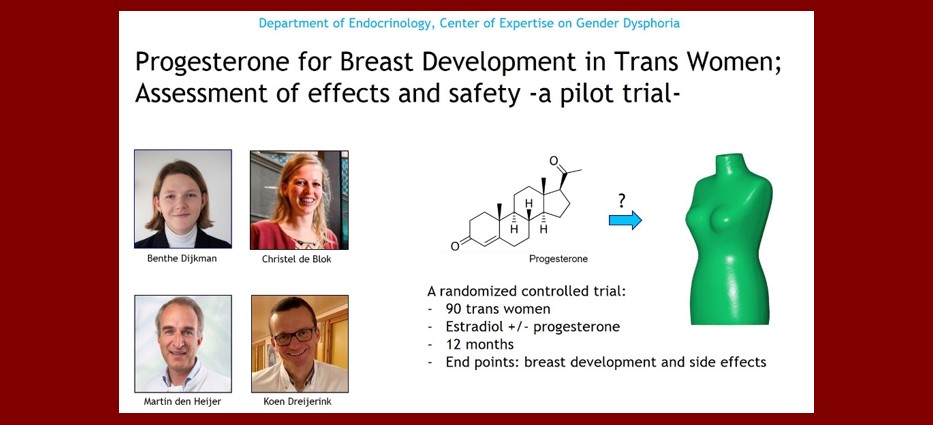 ---
Floris de Voogd and Kyra van Rijn
Stricturing Crohn's disease: advanced ultrasound and magnetic resonance imaging techniques for evaluation of inflammation and fibrosis
Crohn's disease (CD) is often complicated by a bowel stricture, resulting in symptoms of obstruction. Whereas inflammatory strictures might benefit from anti-inflammatory therapy, fibrotic strictures often need a surgical approach. However, current biomarkers are unable to adequately determine stricture composition. Ultrasound and MRI are frequently used in the evaluation of CD activity. Previous studies showed that advanced modalities of both techniques are promising in stricture characterization. Four departments within the Amsterdam UMC have initiated the STRICTURE-study to find novel advanced cross-sectional imaging modalities to determine stricture composition and assess the clinical value of these novel imaging techniques.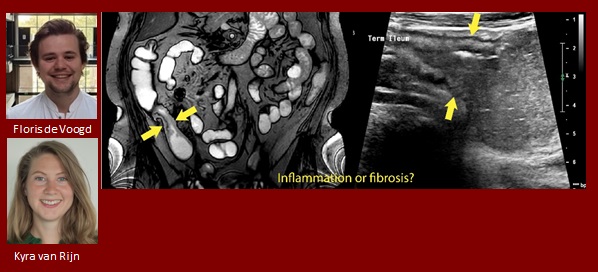 ---
Sanne Bootsma
Clinical evaluation of elesclomol as a treatment for colorectal peritoneal metastases
Colorectal cancer can disseminate to the abdominal cavity and give rise to peritoneal metastases (PMs). Current treatments for metastatic disease show limited activity against PMs, resulting in poor prognosis in this group of patients. Effective treatment options for patients with PMs are therefore urgently needed.
Our analyses revealed that in vitro models of PMs are highly sensitive to a novel compound. The cytotoxic mechanism of this compound depends on its metal ion shuttling action. Divalent ions are delivered to the mitochondria, inducing rapid cell death. We hypothesize that by intra-abdominal administration of this compound with metal salts via a peritoneal access port, PMs can be effectively targeted. Following promising preclinical results we will now prepare a phase I dose escalation trial where we aim to determine the safety and feasibility of the compound as a treatment for patients with PMs.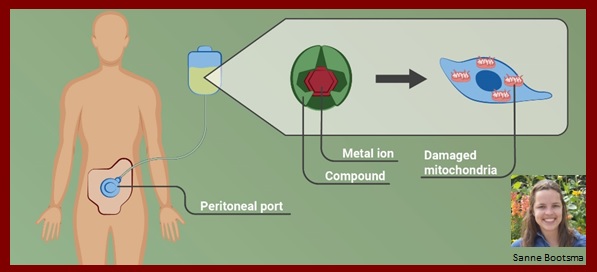 ---
Anton Engelsman
A Phase 2 Proof-of-Concept Study of Somatostatin Receptor Subtype-2 Targeted Fluorescence Guided Surgery of Gastroenteropancreatic Neuroendocrine Neoplasms

Gastroenteropancreatic neuroendocrine neoplasms (GEP-NENs) have a high tendency to metastasize to mesenteric lymph nodes and the liver. Surgical resection shows best results compared to other modalities. However, intra-operative identification of multifocal primary tumours, affected lymph nodes and liver metastases remains challenging.
Neuroendocrine neoplasms show overexpression of somatostatin subtype-2 receptors (SSTR-2), which is already targeted for PET tracers. Previous research has established that modification of this with a fluorophore is feasible, and thus can be used as highly specific intra-operative fluorescent tumour targeting. However, none of the previous research translated this advancement to intra-operative real-time identification of tumours and metastases.
The aim of this project is to develop, synthesize and implement a SSTR-2 targeted fluorescent tracer in a proof-of-concept study with GEP-NEN patients.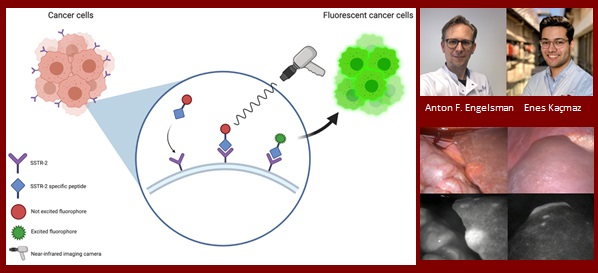 ---
Charlotte van Veldhuisen
Endoscopic and Surgical Treatment of Chronic Pancreatitis in Europa (ESCOPA):
A Prospective, International Snapshot Study of the Dutch Pancreatitis Study Group (DPSG), European-African Hepato Pancreato Biliary Association (E-AHPBA), and European Society of Gastrointestinal Endoscopists (ESGE)

Some patients with chronic pancreatitis (CP) experience extreme abdominal pain which requires endoscopic- or surgical intervention. Due to the heterogeneity, the optimal treatment is often seen as challenging and also varies widely between pancreatic units. Endoscopic and surgical management is mostly only offered as a 'last resort'. However, the recent ESCAPE-trial reported that early surgery results in lower pain scores when compared with an endoscopy-first approach in some. This raises the question what the current state is of endoscopy and surgery for CP, and Pan-European studies are lacking. Hence, there is a need for an international pragmatic prospective multicenter study to provide an overview. The aim is to evaluate practice variation and outcome of endoscopic and surgical treatment for CP across Europe. We will compare different techniques in indication and peri- and postoperative outcomes with postoperative morbidity and improvement in pain scores as primary endpoint. Primary- and secondary outcomes will be assessed during a follow-up of 12 months.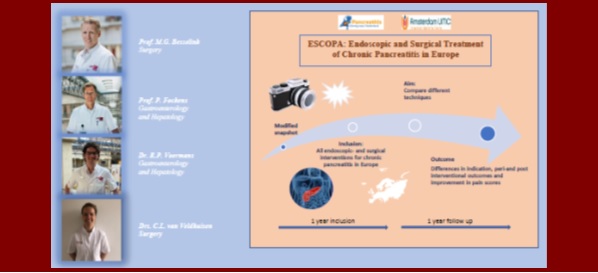 ---
AGEM support for clinical consensus meetings 2020
Grant (€7.500) to facilitate (inter)national multicenter clinical research meetings leading to a new consensus. This grant has this year been awarded to:
Lynn Nooijen
Consensus definition of resectability criteria to select patients for preoperative therapy, exploration, liver transplantation and local ablative techniques for perihilar cholangiocarcinoma - a DELPHI method
---
Marc Besselink
Brescia 2020 AGEM International Consensus Meeting: Histopathological Distinction between Pancreatic Ampullary Cancer Types. A meeting of the International Study Group of Pancreatic Pathologists (ISGPP)