On May 11th, the Jeroen Pit Huis (JPH) was officially opened by queen Máxima. The JPH is a transition care unit, for families with children that have complex conditions requiring intensive care. At the opening, co-founders Job van Woensel, Clara van Karnebeek en Emilie van Karnebeek were awarded royal honours for their hard work contributing to the opening of the JPH.
The JPH is a Transition Care Unit (TCU), a novel type of care unit based on similar initiatives from Canada. JPH is a perfect example of a public-private partnership, being a co-creation between its founders, the Salvation Army (Leger des Heils) and a team of multidisciplinary professionals. The house is part of the TCU consortium, funded by ZonMw, to study and evaluate this type of care units in order to roll out this novel concept to other regions as well.
The JPH building, at location AMC, consists of 8 apartments. The JPH operates through a nurse-led care model and aims to bridge the transition from hospital to home. Professionals help parents and families to prepare for their joint return home after a period of hospitalization of one of their children. The first families with children, some of them with metabolic diseases, have moved into the JPH already.
And the end of the opening celebration of the JPH, founders Job van Woensel, Clara van Karnebeek en Emilie van Karnebeek were surprised by a visit from deputy mayor of Amsterdam, miss S. Kukenheim. She had the honour to appoint the three founders to Ridder in de Orde van Oranja-Nassau in the name of King Willem-Alexander of the Netherlands. This honorary title was given to them in presence of the whole JPH team and family members, to reward their enormous contribution to realizing the Jeroen Pit Huis.
On behalf of AGEM, we would like to congratulate the three founders on their honorary title, and the whole team of the JPH on making the opening of this valuable care unit possible!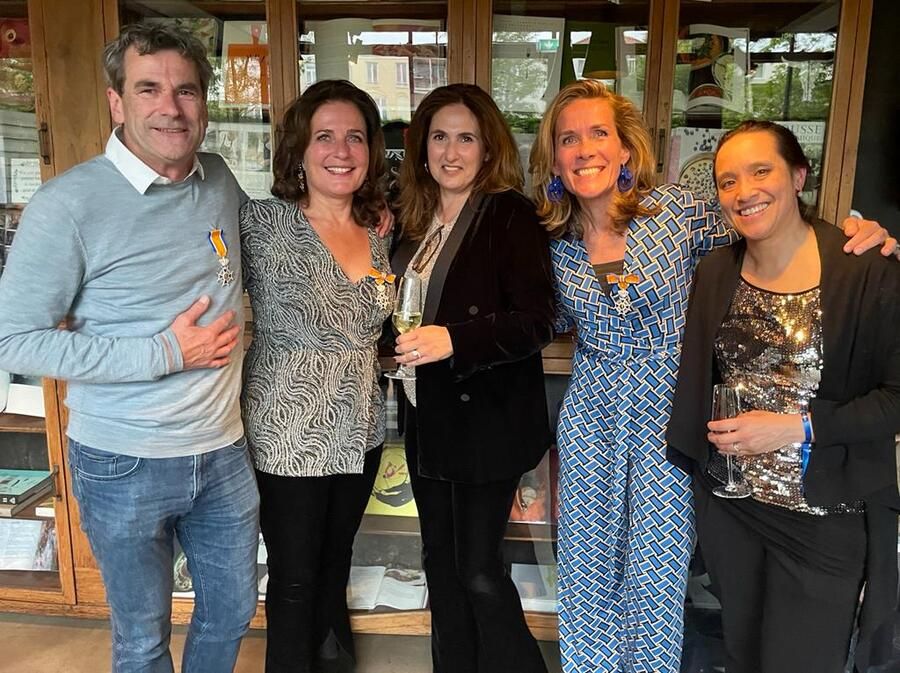 From left to right: Job van Woensel, Emilie van Karnebeek, Mariella Zandvliet, Clara van Karnebeek, Vanessa Liem