The Amsterdam Cardiovascular Sciences (ACS) research institute aims to design novel treatment strategies to prevent and cure cardiovascular disease. We organized the cardiovascular research in Amsterdam in five Research Programs in which all aspects of translational research are embedded, covering research from the bench to the bedside and vice versa.
About ACS
Cardiovascular failure is the most frequent cause of hospitalization in Western societies and the prognosis of heart failure patients remains poor despite advances in treatment. Progressive deterioration of vascular and myocardial function is a key feature of chronic heart failure and is the result of many different pathological processes affecting the vessels and muscle of the heart. Due to changes in lifestyle, leading to obesity, hypertension and diabetes, cardiac and vascular problems arise at a relatively young age. Although life-expectancy has significantly increased, the ageing population is characterized by chronic cardiovascular disease which reduces quality of life and causes an excessive increase in costs for care. By combining our expertise within ACS, we aim to strengthen and streamline our education, research and clinical activities and build a common strategy to master current challenges in cardiovascular research.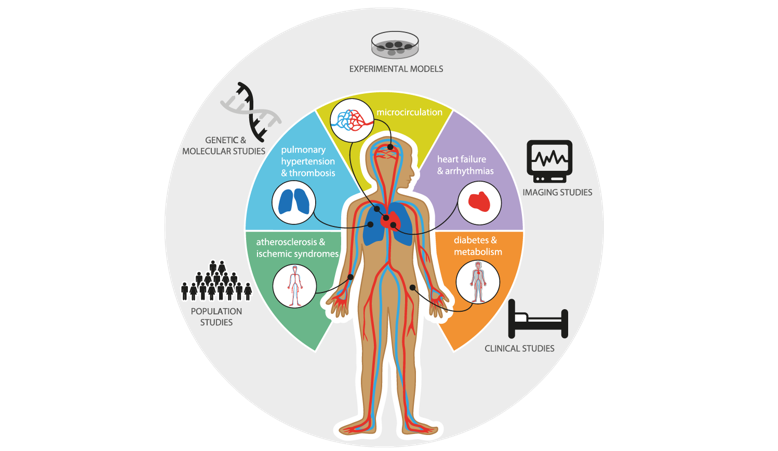 Overview of the Amsterdam Cardiovascular Sciences research programs and modalities.
ACS mission
The mission of ACS is to design novel treatment strategies to prevent and cure cardiovascular disease. For this purpose, education, research and clinical activities are focused within five Research Programs that not only translate experiments to clinical interventions, but also use clinical observations to develop and validate novel biological concepts. In this framework, we interconnect excellence in clinical and basic research and provide unique infrastructure to train and attract talented cardiovascular researchers to Amsterdam. We aim that this translational research approach will lead to discovery and proof of concept of innovative, effective strategies that improve cardiovascular health.
ACS vision
A unique feature of ACS is the direct connection between basic experimental studies and patient studies organized within five strong, interactive, translational and innovative Research Programs. Problems in patient care form the basis of novel experimental research concepts giving rise to a cycle of research from 'bedside to bench and back'. Our strategy enables to go from the patient care problem to experimental designs in the laboratory, and to subsequently test novel treatment strategies in selected patient groups.