Depression is highly prevalent and is the second leading contributor to disability worldwide. This underlines the need for insights in the dysregulated biological pathways and the search for suitable personalized treatment. Assistant professor Yuri Milaneschi and professor Brenda Penninx from the department of psychiatry of Amsterdam UMC, and affiliated with Amsterdam Neuroscience, highlight the future of the immune-metabolic depression model in their joint review published in the journal Biological Psychiatry.
RImmuno-metabolic dysregulations, for example chronic inflammation, oxidative stress or disruption of neuroendocrine regulators, have been proposed to play a role not only in the pathophysiology of cardiometabolic disorders, where they are commonly found, but also in depression. The relationship between immuno-metabolic dysregulations and depression is not completely explained by sociodemographic and lifestyle indicators. Clinical depression heterogeneity might also influence this relationship: immuno-metabolic dysregulations may be specifically linked to the expression of certain symptom profile. Furthermore, the immuno-metabolic alterations in depression might moderate the antidepressant effects of standard or novel therapeutic approaches.
Therefore, Yuri Milaneschi and his colleagues describe the immuno-metabolic depression model in their review. This model explains how immuno-metabolic dysregulations vary as a function of depression heterogeneity. It firstly illustrates that such biological dysregulations map more consistently to 'atypical' behavioral symptoms reflecting altered energy intake/expenditure balance (strong sensation of hunger, weight gain, hypersomnia, fatigue and the sensation of heavy limbs). Secondly, it shows that these biological dysregulations may moderate the antidepressant effects of standard or novel (e.g. anti-inflammatory) therapeutic approaches. The immune-metabolic depression dimension described in the review could be used to dissect depression's heterogeneity and has the potential to match group of patients to specific treatments with higher likelihood of clinical success, which are essential steps towards 'precision psychiatry'.
Yuri Milaneschi: "The immuno-metabolic depression model condenses the knowledge we gathered during several years of research. With this model we provide a tool to be applied in future clinical research. For instance, we are planning to select patients enriched for immune-metabolic depression, in order to test whether the efficacy of standard antidepressant treatment could be enhanced by adding interventions targeting directly the biological dysregulations described in our model."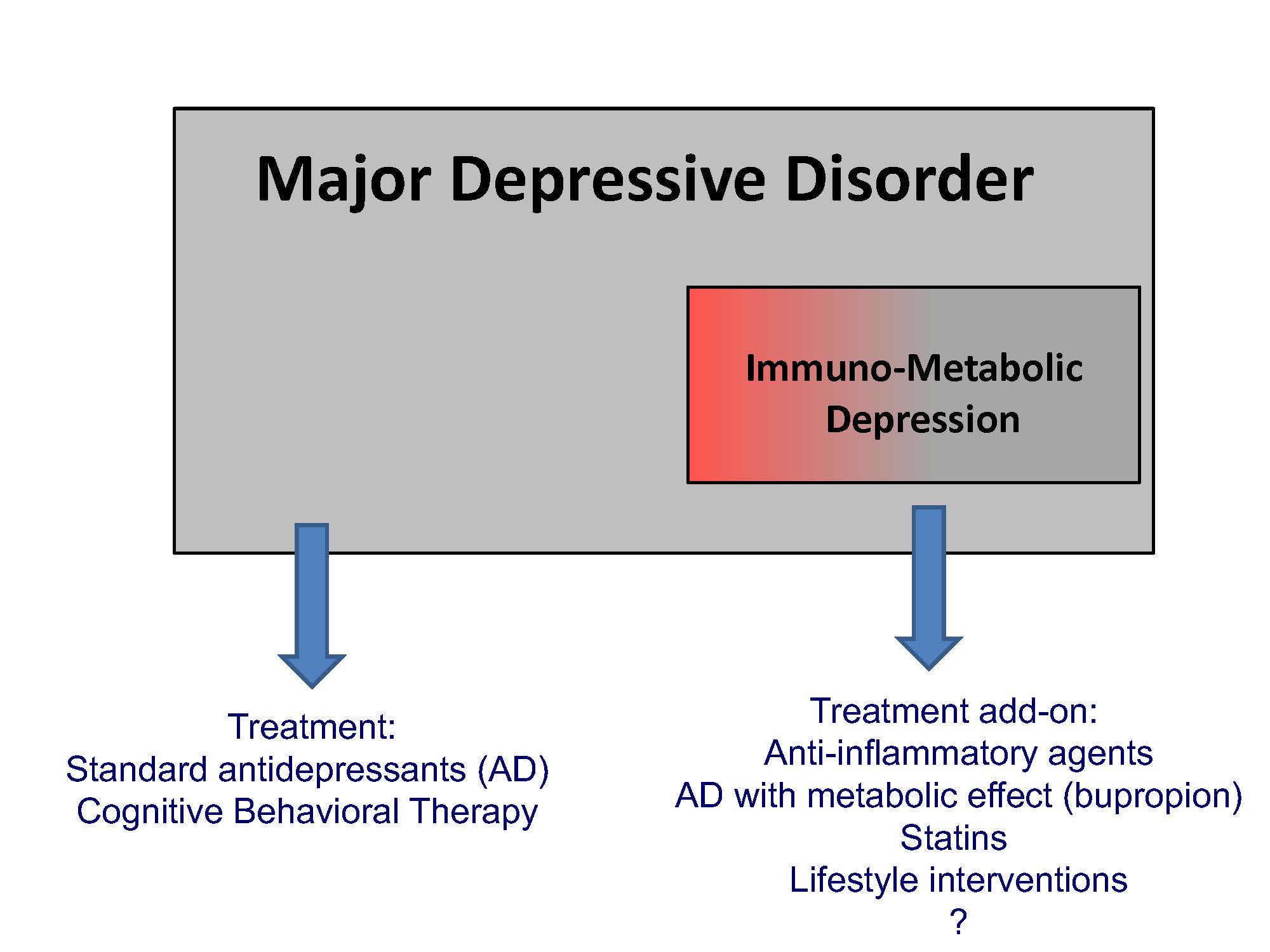 Illustration of the position of the immune-metabolic depression model within the major depressive disorder spectrum and potential treatment implications.
Read the review in Biological Psychiatry 'Depression Heterogeneity and Its Biological Underpinnings: Toward Immunometabolic Depression.'